Magnetic Separation Rack, 0.2 mL Tubes
User Manual
Data sheet
Product Description
Magnetic Separation Rack for use with up to sixteen 0.2 mL PCR tubes for separation of paramagnetic beads in a variety of cell-based or molecular biology applications.
Features:
Solid aluminum construction with hard coat anodizing for durability.
Strong permanent Neodymium magnets for fast and effective bead separation.
Compatible with standard 0.2 mL PCR tubes, either as individual tubes or strip tubes.
Double-sided, with two sets of magnets.
Can be used on either small volumes (5 - 50 μl, see figure top right) or larger volumes (50 - 200 μl, bottom right).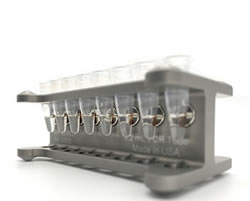 Catalog Number


10-0008-EPC

Supplier


EpiCypher

Size




Shipping


RT