CUTANA™ ChIC/CUT&RUN Kit
ChIC and CUT&RUN have revolutionized the study of chromatin regulation by enabling targeted release of genomic fragments into solution.
CUTANA™ CUT&RUN kits, reagents, and assay services map histone PTMs and chromatin-interacting proteins with high resolution, at a fraction of the time and cost of standard ChIP-seq experiments.
Quickstart Guide
User Manual
Data sheet
Product Description
Dramatically reduced background
High resolution genomic mapping for histone PTMs and chromatin-associated proteins
Small number of cells and only 3-8 million sequencing reads per sample needed
Streamlined and cost saving workflow
Kit Description
The CUTANA ChIC/CUT&RUN Kit contains sufficient materials for 48 CUT&RUN samples and is designed for multi-channel sample pipetting in order to realize the increased experimental throughput advantage of CUT&RUN. The kit includes positive (H3K4me3) and negative (IgG) control antibodies. A panel of bead immobilized H3K4 methyl designer nucleosomes (dNucs™) are spiked-in to control samples to directly monitor experimental success and aid troubleshooting (Figure 1). E. coli DNA is added to samples after pAG-MNase cleavage to enable experimental normalization. The kit is compatible with cells and nuclei, including cryopreserved and cross-linked samples. It is recommended to start with 500,000 cells, however comparable data can be generated using as few as 5,000 cells. The inclusion of controls and compatibility with diverse target types, sample inputs, and low cell numbers make the CUTANA ChIC/CUT&RUN Kit ideal for a variety of research applications.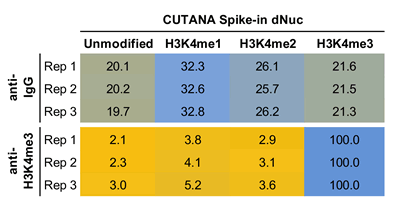 Storage and Stability
DO NOT FREEZE ENTIRE KIT. Upon receipt, store individual components at room temperature, 4°C and -20°C (see manual for full instructions).
Performance Data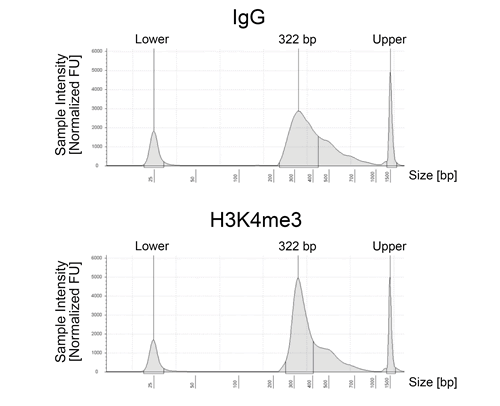 Catalog Number


14-1048-EPC

Supplier


EpiCypher

Size




Shipping


Blue Ice