Urine microRNA Purification Kit
User Manual
Specifications
Product Category:
microRNA Purification
Sample Type:
Urine
Product Description
Isolate all small RNA molecules including miRNA, siRNA, and tRNA
Fast and easy processing - Rapid spin-column format allows for the processing of multiple samples in under 30 minutes
Versatile urine input volume - Isolate urine microRNA from 0.5 - 1 mL of urine samples
No phenol or chloroform extractions
Isolate inhibitor-free RNA suitable for downstream applications
Norgen's Urine microRNA Purification Kit provides a rapid method for the isolation and purification of small RNA molecules (< 200 nt) from urine samples. These small RNAs include regulatory RNA molecules such as microRNA (miRNA) as well as tRNA and 5S rRNA. Small RNA molecules are often studied due to their ability to regulate gene expression. Typically miRNAs are 20-25 nucleotides long, and regulate gene expression by binding to mRNA molecules and affecting their stability or translation. Several recent studies have shown that miRNA regulates cell growth and apoptosis. Furthermore, clinical and experimental analyses suggested that miRNAs may function as a novel class of oncogenes or tumor suppressor genes. MicroRNA expression profiles of different tumor types, relative to their normal tissues, have recently been shown to provide phenotypic signatures for particular cancer types. Unique patterns of aberrant miRNA expression may serve as molecular biomarkers for tumor diagnosis, prognosis of disease specific outcomes, and prediction of therapeutic responses.
Purified RNA is fully compatible with various downstream applications relating to gene regulation and functional analysis, including RT-PCR, northern blotting and microarray analysis.
Workflow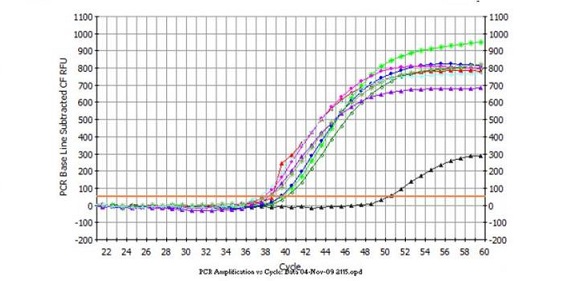 Isolation and Detection of microRNA from Urine Samples. Norgen's Urine microRNA Purification Kit was used to isolate microRNA from 8 different 1.5 mL urine samples. The purified microRNA was then used as the template in an RT-qPCR reaction to detect the human miR-21 gene. Five microlitres of the isolated RNA was used as the template in the RT step, and 5 ìL from the RT step was used in the qPCR reaction. As it can be seen, the qPCR was able to successfully detect and amplify the miR-21 gene in all cases, indicating the high quality of the isolated urine microRNA. The black line in the graph above corresponds to the No Template Control.
Product Citations
Pazourkova E, Pospisilova S, Svobodova I, Horinek A, Brisuda A, Soukup V, Hrbacek J, Capoun O, Mares J, Hanus T, Babjuk M, Korabecna M. (2016) Comparison of MicroRNA Content in Plasma and Urine Indicates the Existence of a Transrenal Passage of Selected MicroRNAs Advances in Experimental Medicine and Biology
Pospisilova S, Pazourkova E, Horinek A, Brisuda A, Svobodova I, Soukup V, Hrbacek J, Capoun O, Hanus T, Mares J, Korabecna M, Babjuk M. (2016) MicroRNAs in urine supernatant as potential non-invasive markers for bladder cancer detection Neoplasma
Min, X., Zhang, M., Huang, F., Lou, X., & Xia, F (2016) Live Cell MicroRNA Imaging Using Exonuclease III-Aided Recycling Amplification Based on Aggregation-Induced Emission Luminogens ACS Appl. Mater. Interfaces
Emel Isiktas Sayilar, Mustafa Gullulu, Ercan Tuncel, Hande Peynirci, Adem Alemdar, Berrin Tunca, Unal Egeli, Gulsah Cecener, Murat Bayindir and Gokhan Cosgun (2016) Biomarker Potential of Urine miR-451 at Different Stages of Diabetic Nephropathy Journal of Diabetes & Metabolism
Iliev R, Fedorko M, Machackova T, Mlcochova H, Svoboda M,, Pacik D, Dolezel J, Stanik M, Slaby O, (2016) Expression Levels of PIWI-interacting RNA, piR-823, Are Deregulated in Tumor Tissue, Blood Serum and Urine of Patients with Renal Cell Carcinoma Anticancer Research
...
Catalog Number


29000-NB

Supplier


Norgen Biotek

Size




Shipping


RT