Urine Total RNA Purification Maxi Kit (Slurry Format)
User Manual
Specifications
Product Category:
Total RNA incl. microRNA Purification
Sample Type:
Urine
Product Description
Isolate inhibitor-free urinary RNA
No phenol or carrier RNA needed
Rapid and convenient protocol
The Urine Total RNA Purification Maxi Kit (Slurry) provides a rapid method for the isolation and purification of total RNA from urine samples. The kit purifies all sizes of RNA, from large mRNA and ribosomal RNA down to microRNA (miRNA) and small interfering RNA (siRNA), without the use of phenol or chloroform. The silicon carbide resin used as the separation matrix provides superior affinity to the full size range of RNA molecules, resulting in large and small RNA (microRNA) purification with better linearity and sensitivity. The purified RNA is of the highest integrity and can be used in a number of downstream applications including real time RT-PCR, Northern Blot analysis, RNase protection and primer extension, expression profiling, microRNA cloning and amplification as well as Next Generation Sequencing.
A kit for the rapid purification of total RNA (including microRNA) from exfoliated cells in urine as well as a Urine microRNA Purification Kit (see links below) are also offered.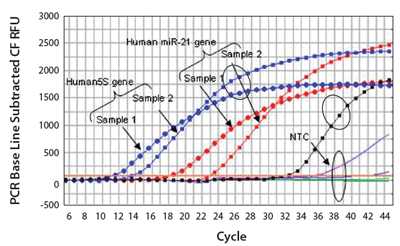 Isolation of total RNA from urine samples.
The Norgen Urine Total RNA Purification Maxi Kit (Slurry) was used to isolate total RNA from two 10 ml urine samples. Five microlitres of the isolated RNA were used as template in qRT-PCR reactions to detect expression of the human 5S gene and the miR-21 gene. Both 5S rRNA (blue line) and miR-21 (red line) could be detected, indicating the high quality of the isolated urine total RNA. The black line corresponds to the non-template control.
Catalog Number


29600-NB

Supplier


Norgen Biotek

Size




Shipping


RT