ITS1 SNAP Panel (primers only)
The Swift Normalase Amplicon Panel (SNAP) for 16S v2 and ITS1 offers a robust NGS workflow that provides optimal coverage and NGS data quality on Illumina® sequencing platforms
User Manual
Brochure
Product Description
The Swift Normalase Amplicon Panel (SNAP) for 16S v2 and ITS1 leverages Swift's multiplex PCR technology, enabling library construction from DNA using tiled primer pairs to target
all V1-V9 variable rRNA regions and
ITS1 region,
each with a single pool of multiplexed primer pairs.
SNAP kits utilize multiple overlapping amplicons in a single tube, using a rapid, 2-hour workflow to prepare ready-to-sequence libraries. The PCR1+PCR2 workflow generates robust libraries, even from low input quantities. The libraries may be quantified with conventional methods such as Qubit® or Agilent Bioanalyzer and normalized by manual pooling or normalized enzymatically with the included Swift Normalase reagents.
The protocol includes instructions for a Multiplex PCR step to enrich target sequences, an Indexing PCR step to amplify and add combinatorial dual indexed adapter sequences, and an optional downstream Normalase step to produce an equal molar library pool.
For Swift Normalase Amplicon Panel (SNAP) based NGS Target Enrichment Workflow please be sure to select one from each of the three categories to complete your order:
Choose a SNAP Multiplex Primer Pool
Add the the SNAP Core kit
Choose a SNAP Indexing Primer Kit
All components have to be purchased individually.
Workflow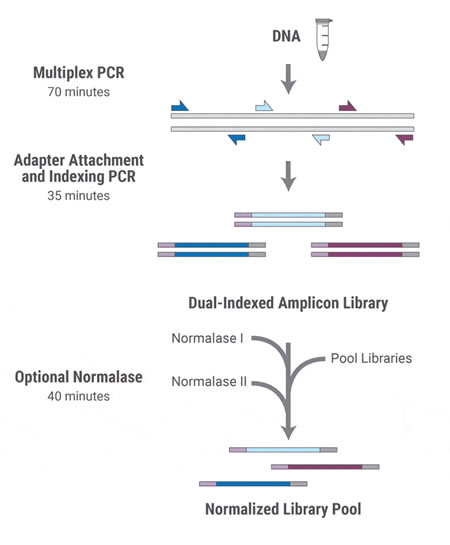 Catalog Number


517G1-96-SWI

Supplier


Swift Biosciences

Size




Shipping


Dry Ice