Endura ElectroCompetent Cells (DUOS) (direct replacement for Stbl4 and SURE Electro cells) > 1 x 10e10 cfu/ug
User Manual
Specifications
Competence:
Electroporation Competent
Application:
Large or Difficult Fragment Cloning, Lentiviral Genome Editing
Organism:
E. coli
Product Description
Clone unstable sequences (e.g. retroviral elements) with reliable results
The cells of choice for propagating lentiviral constructs, e.g. CRISPR Cas9 lentiviral gRNA constructs and libraries, such as the GeCKO (Genome Scale CRISPR Knock Out) pooled lentiviral gRNA libraries.
Direct replacement for Invitrogen Stbl3™ and Agilent SURE strain
Stable Genotype without resistance marker
Excellent value
High efficiency: > 1 × 10e10 cfu/ug
Also available as chemically competent cells (> 1 × 10e7 cfu/ug)
Lucigen's Endura Competent Cells (Genotype: recA13 supE44 ara-14 galK2 lacY1 proA2 rpsL20(StrR) xyl-5 λ– leu mtl-1 F– mcrB mrr hsdS20(rB–, mB–) are a commonly used strain for cloning, maintaining and stably propagating sequences that suffer unwanted recombination events in other strains, e.g. inverted repeats or other sequences prone to recombination (commonly found for example in retroviral genes).
Chemical or electrocompetent, whichever method of transformation you prefer, Lucigen's Endura cells give you higher efficiency at better prices.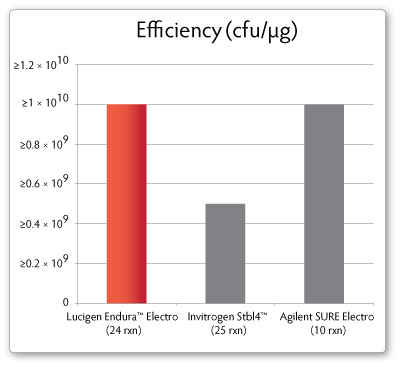 Transformation efficiencies of electrocompetent clone-stabilizing strains
Order Information:
Endura™ Competent Cells include Control DNA and Recovery Medium, which is also available separately. The specified transformation efficiencies are with pUC DNA, unless indicated otherwise.
Custom Configurations
Please contact us for more information related to custom competent cell services or to receive a bulk quotation.
Product Citations
Sanjana NE et al. (2014) Improved vectors and genome-wide libraries for CRISPR screening. Nature Methods 11(8): 783–784
Shalem O et al. (2014) Genome-Scale CRISPR-Cas9 Knockout Screening in Human Cells. Science 343 (6166): 84-87.
Catalog Number


60242-1-LU

Supplier


Lucigen

Size




Shipping


Dry Ice