BRCA1 and BRCA2 and PALB2 Accel-Amplicon® Panel
Targeted Sequencing for Breast Cancer Genes
User Manual
Brochure
Product Description
The Accel-Amplicon BRCA1, BRCA2, and PALB2 Panel offers comprehensive coverage of the entire coding sequence of the BRCA1 and BRCA2 genes, as well as coverage of all coding exons and 5' and 3' UTR regions of PALB2 (partner and localizer of BRCA2). Utilizing 302 amplicons with an average size of 149 bp, this panel generates targeted libraries compatible with Illumina® and Ion Torrent™ sequencing platforms.
The unique design of the Accel-Amplicon BRCA1, BRCA2, and PALB2 Panel enables compatibility with FFPE and cfDNA samples. This product is a complete kit that includes all components necessary for generating ready-to-sequence libraries, including primer pairs and indexed sequencing adapters.
This panel is modular, allowing you to add on focused content to achieve your most optimal design. Either use Swift's pre-validated content or add your own targets to the core. Swift will work alongside you to design your assay and then optimize and wet-bench validate its performance before shipping it to you.
Single-tube assay
Ready-to-sequence libraries in 2 hours
Inputs as low as 10 ng
Average amplicon size of 149 bp for compatibility with FFPE and cfDNA
Limit of detection as low as 1-5% for somatic mutations
On-target specificity and coverage uniformity > 95%
Leverages the high fidelity performance of the Illumina platform
Complete library generation in a single kit
Workflow
The Accel-Amplicon workflow uses a fast, single-tube approach consisting of a 90-minute target enrichment amplification step and a 10-minute adapter ligation step, yielding a 2-hour start-to-finish procedure.
Product Specifications
Like the Accel-Amplicon BRCA1 and BRCA2 Panel, the Accel-Amplicon BRCA1, BRCA2, and PALB2 Panel offers high sensitivity variant detection from input amounts from 10-25 ng. The kit utilizes Illumina-compatible dual-indexed adapter sequences and has been validated on the MiSeq® and HiSeq® platforms. Barcoded adaptors for sequencing on Ion Torrent platforms are also available (please inquire).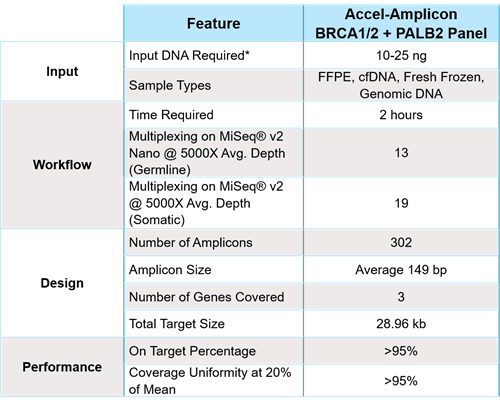 *As quantified by qPCR. Qubit® represents amplifiable DNA content more accurately than NanoDrop®, however it is still not as accurate as the qPCR assay. For sample types with more consistent high quality DNA including whole blood, fresh frozen samples, and cultured cells, quantification by Qubit is a reliable indicator of amplifiable content.
Performance Data
Performance on Illumina Platform
The data below demonstrate the performance of the Accel-Amplicon BRCA1, BRCA2, and PALB2 Panel on a variety of sample types.
Sequencing data files (FASTQ, BED, BAM, and VCF) for this amplicon panel are available on request.
Catalog Number


AL-57048-SWI

Supplier


Swift Biosciences

Size




Shipping


Dry Ice/RT