Colorectal (CRC) Accel-Amplicon® Plus Panel
Simultaneous detection of genes implicated in colorectal cancer
User Manual
Brochure
Product Description
The Accel-Amplicon® Plus Colorectal Cancer Panel is an NGS multigene panel for variant discovery and screening. It combines content from peer reviewed publications and other sources to offer comprehensive and exon-level hotspot coverage of 16 clinically-relevant colorectal genes. Areas of interest include genes such as AKT1, TP53, PIK3CA, KRAS and NRAS.
The panel is modular, allowing you to add focused content to achieve your most optimal design. Either combine pre-validated content such as our Lynch Syndrome content or add your own targets. We'll work alongside you to design your assay and then Swift will optimize and wet-bench validate its performance before shipping it to you.
Comprehensive: Covers 11,000 COSMIC and 3,500 ClinVar mutations and generates targeted libraries compatible with Illumina® sequencing platforms. Illumina® sequencing platforms.
Informative: Provides CNV detection of ERBB2 and full exon coverage of TP53 with flanking intron/exon boundaries.
Powerful: Simultaneous detection of single nucleotide variants (SNV), copy number variants (CNV) and small insertions and deletions (indels), all within a fast and easy single-tube assay workflow.
Flexible: Add our Lynch Syndrome pre-validated content or your own targets using our pre-validated primers or other content. The possibilities are endless.
Single-tube assay
Ready-to-sequence libraries in 2 hours
Inputs as low as 10 ng
Average amplicon size of 143 bp for compatibility with FFPE and cfDNA
Highly sensitive detection of rare variants down to 1% allele frequency.
Complete library generation in a single kit
Streamlined analysis with bioinformatics resources such as Primerclip and Genialis.
Compatible with all Illumina platforms
Workflow
The Accel-Amplicon workflow uses a fast, single-tube approach consisting of a 90-minute target enrichment amplification step and a 10-minute adapter ligation step, yielding a 2-hour start-to-finish procedure.
Panel Specifications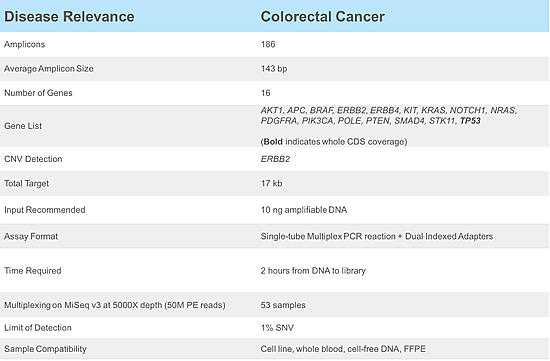 Performance Data
Achieve Robust Sequencing Performance Over a Wide Range of Samples

An array of control DNA samples (10 ng input for each) was used to generate libraries with the Accel-Amplicon Plus Colorectal Cancer Panel. The samples include male and female Coriell repository DNAs of different ethnicities, Horizon HD701 quantitative multiplex reference standard, the Acrometrix™ Oncology Hotspot Control, gDNA and cfDNA extracted from human blood, circulating cell-free DNA, and three formalin-compromised samples, including Horizon HD200 FFPE. Libraries were sequenced on an Illumina MiniSeq instrument and the on target aligned reads and coverage uniformity percentages were plotted.
Catalog Number


AP-CR8048-SWI

Supplier


Swift Biosciences

Size




Shipping


Dry Ice