Lynch Syndrome Accel-Amplicon® Plus Panel
Simultaneous detection of genes implicated in Lynch Syndrome
User Manual
Brochure
Product Description
The Accel-Amplicon® Plus Lynch Syndrome Panel is the NGS multigene panel to identify mutations in DNA Mismatch Repair (MMR) genes. It offers comprehensive and exon-level hotspot coverage of 4 clinically-relevant genes: MLH1, MSH2, MSH6 and PMS2. And with sensitivity down to 1% allele frequency, now you can identify both germline and somatic mutations in the same panel.
Comprehensive: Covers 600 COSMIC and 7,500 ClinVar mutations and generates targeted libraries compatible with Illumina® sequencing platforms.
Powerful: Simultaneous detection of single nucleotide variants (SNV) and small insertion and deletions (indels), all within a fast and easy single-tube assay workflow.
Robust performance on cell-free DNA and FFPE samples starting with as little as 10 ng input.
Highly sensitive detection of rare variants down to 1% allele frequency.
Easy, single-tube assay with sequence ready libraries in 2 hours.
Streamlined analysis with new bioinformatics tools including Primerclip or VarSome.
Compatible with all Illumina sequencers
Workflow
The Accel-Amplicon® workflow uses a fast, single-tube approach consisting of a 90-minute target enrichment amplification step and a 10-minute adapter ligation step, yielding a 2-hour start-to-finish procedure.
Panel Specifications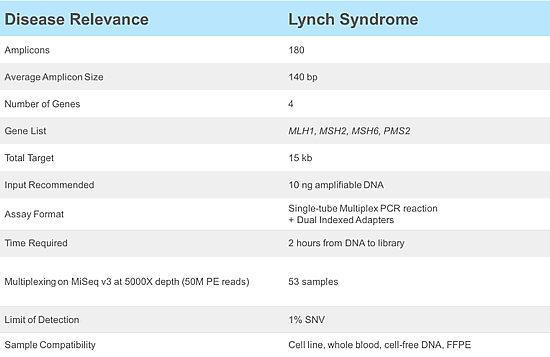 Performance Data
Achieve Robust Sequencing Performance Over a Wide Range of Samples

An array of control DNA samples (10 ng input for each) was used to generate libraries with the Accel-Amplicon Plus Lynch Syndrome Panel. The samples include male and female Coriell repository DNAs of different ethnicities, Horizon HD701 quantitative multiplex reference standard, the Acrometrix™ Oncology Hotspot Control, and three formalin-compromised samples, including Horizon HD200 FFPE. Libraries were sequenced on an Illumina MiniSeq instrument and the on target aligned reads and coverage uniformity percentages were plotted.
Catalog Number


AP-LN8048-SWI

Supplier


Swift Biosciences

Size




Shipping


Dry Ice