SARS-CoV-2 Additional Genome Coverage SNAP Panel (primers only)
99.7% Genomic Coverage! "If variants are there, you will see them"
User Manual
Product Description
Optimized NGS for SARS-CoV-2
Swift Normalase Amplicon SARS-CoV-2 NGS Panels (SNAP) enable identification of SARS-CoV-2 strains, including variants, from samples such as nasopharyngeal/oropharyngeal swabs, sputa, bronchoalveolar lavage (BAL), and stool.
99.7% genomic coverage
Obtain genomes from viral titers as low as 10-100 viral copies
cDNA-to-sequencer in 3 hours
Up to 1536 UDIs
The SNAP SARS-CoV-2 Kit uses overlapping primers to generate 345 amplicons, sized 116-255 bp (average 150 bp), along the length of the 29.9 kb viral genome and obtain 99.7% coverage of the genome. Overlapping primers ensure that novel variants are detected, even when the mutation is a dropout of genomic sequence. Comprehensive mutation detection is crucial for tracking nucleotide variants and improve understanding of virus evolution, transmission, and pathogenesis.

Obtain genomes from viral titers as low as 10-100 viral copies
10 to 1 million viral genome copies (Figure 2) are sufficient to generate NGS libraries using the SNAP SARS-CoV-2 panel. Mixed RNA samples were converted into first strand cDNA and used as input into the SNAP SARS-CoV-2 panel. Libraries were enzymatically normalized to 4nM using the Normalase workflow provided in the SNAP protocol.
cDNA-to-sequencer in 3 hours
Prepare first- or second-strand cDNA from samples such as Nasopharyngeal/Oropharyngeal Swabs, Sputa, Bronchoalveolar Lavage (BAL), Stool, or Wastewater (figure 3). Generate an NGS library using tiled primer pairs in a single tube to target the 29.9 kb viral genome. Primers were designed against the NCBI Reference Sequence NC_045512.2 (Severe acute respiratory syndrome coronavirus 2 isolate Wuhan-Hu-1, complete genome) (Table 1).
Replace qPCR library quantification and normalization with the Normalase primers included in the kit. Produce consistent amplified library yields of 12 nM or 6 nM to generate equimolar pools and obtain balanced sample representation in sequencing.
Workflow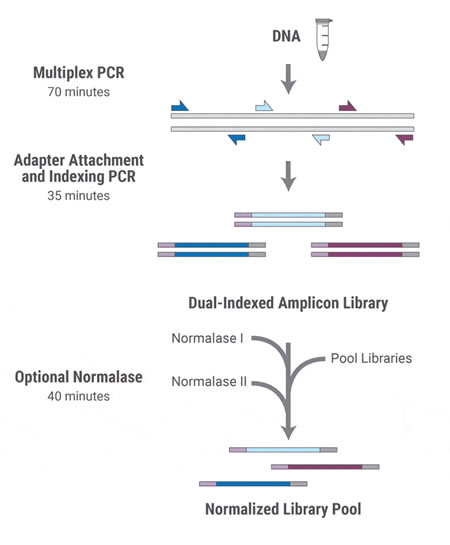 Swift also offers two other SARS-CoV-2 Primer Panels, the Swift Amplicon SARS-CoV-2 Panel and the SARS-CoV-2 S Gene Panel.
For Swift Normalase Amplicon Panel (SNAP) based NGS Target Enrichment Workflow please be sure to select one from each of the three categories to complete your order:
Choose a SNAP Multiplex Primer Pool
Add the the SNAP Core kit
Choose a SNAP Indexing Primer Kit
All components have to be purchased individually.
Catalog Number


COVG1V2-96-SWI

Supplier


Swift Biosciences

Size




Shipping


Dry Ice