2019-nCoV TaqMan RT-PCR Kit (N1/N2/RnaseP- CDC protocol) - CE-marked (for IVD)
User Manual
Specifications
Product Category:
TaqMan Real-Time PCR Kits
Pathogen Detection:
Human Pathogen Detection
CE / IVD Marking:
Yes
Product Description
CE-IVD marked in accordance with EU Directive 98/79/EC
Fits into in vitro diagnostic workflows
COVID-19 detection based on the assays and protocols developed by the CDC
Primer & Probe Mixes contain all 3 CDC developed assays in individual tubes
All assays are premixed to the working concentrations recommended by the CDC
Positive Control contains 2 nCoV nucleocapsid target gene RNA (N1,N2) and RNase P (internal control) which are compatible with the CDC primer/probe set
Convenient ready-to-use 2X One-Step RT-PCR Master Mix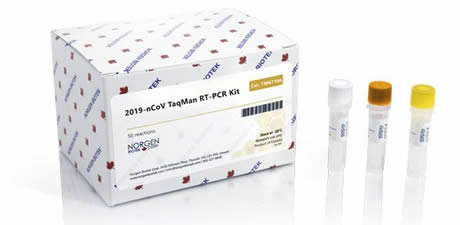 Norgen's 2019-nCoV TaqMan RT-PCR Kit Dx provides SARS-CoV-2 detection based on the assays and protocols developed by the CDC.
The kit utilizes RT-PCR for the amplification of specific target sequences and target specific probes for the detection of the amplified cDNA. The Primer & Probe Mixes contain all 3 CDC developed assays in individual tubes where probes are labelled with the fluorophore FAM. All assays are premixed to the working concentrations recommended by the CDC. The Positive Control contains two nCoV nucleocapsid target gene RNA (N1 and N2) and RNase P (internal control). The kit contains a positive control to monitor for PCR inhibition, and to validate the quality of the sample and the detection result. The 2019-nCoV TaqMan RT-PCR Kit Dx comprises Master Mix for the target and PCR control detection, 3 target Primer & Probe Mixes, as well as a positive control and a negative control (nuclease-free water) to confirm the integrity of the kit reagents.
Positive results are indicative of SARS-CoV-2 RNA detection, however clinical correlation with patient history and other diagnostic information is necessary to determine patient infection status. Positive results do not rule out co-infection with other viruses and therefore the agent detected may not be the definite cause of disease. Negative results do not preclude SARS-CoV-2 infection and should not be used as the sole basis for patient management decisions. Any negative results must be combined with clinical observations, patient history, and epidemiological information.
The 2019-nCoV TaqMan RT-PCR Kit Dx was developed and validated to be used with the BioRad CFX96 Touch™ Real-Time PCR Detection System.
Norgen's 2019-nCoV TaqMan RT-PCR Kit Dx is intended for use by professional users including clinical laboratory personnel experienced and trained in molecular biology techniques including real-time PCR and in vitro diagnostic procedures.
Catalog Number


DxTM67120-NB

Supplier


Norgen Biotek

Size




Shipping


Dry Ice