COVID-19 TaqMan RT-PCR Kit (N/ORF1ab genes)- CE-marked (for IVD)
User Manual
Specifications
Product Category:
TaqMan Real-Time PCR Kits
Pathogen Detection:
Human Pathogen Detection
CE / IVD Marking:
Yes
Product Description
CE-IVD marked in accordance with EU Directive 98/79/EC
Multiplex RT-PCR system detects two SARS-CoV-2 specific genes (N gene and ORF1ab) in a single one step RT-PCR reaction
Primer & Probe Mixes contain all N gene, ORF1ab and human RP assays
Positive Control contains the three SARS-related target genes: N gene, ORF1ab gene as well as the human RP (internal control).
Convenient ready-to-use 2X One-Step RT-PCR Master Mix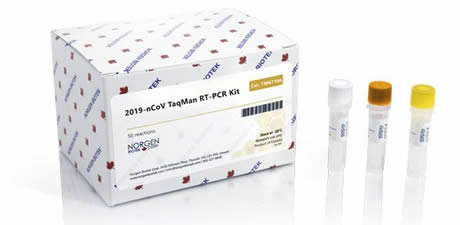 Norgen's COVID-19 TaqMan RT-PCR Kit (N/ORF1ab genes) Dx includes 2X One-Step RT-PCR Master Mix, a primer/probe mix, a positive control and a negative control (nuclease-free water). The primer/probe mix contains three SARS-CoV-2 detection targets; N (Nucleoprotein), ORF1ab (Open reading frame1ab) and the human RNase P transcript (RP - HEX/VIC) as an internal control target to monitor for PCR inhibition, and to validate the quality of the sample and the detection result. The provided N/ORF1ab/RP Positive Control contains an in vitro RNA transcript for the two SARS-related target genes: N gene, ORF1ab gene as well as the human RP gene (internal control).
Positive results are indicative of SARS-CoV-2 RNA detection, however clinical correlation with patient history and other diagnostic information is necessary to determine patient infection status. Positive results do not rule out co-infection with other viruses and therefore the agent detected may not be the definite cause of disease. Negative results do not preclude SARS-CoV-2 infection and should not be used as the sole basis for patient management decisions. Any negative results must be combined with clinical observations, patient history, and epidemiological information.
Norgen's COVID-19 TaqMan RT-PCR Kit (N/ORF1ab genes) Dx is intended for use by professional users including clinical laboratory personnel experienced and trained in molecular biology techniques including real-time PCR and in vitro diagnostic procedures.
This kit was developed and validated to be used with the following PCR instrument:
BioRad CFX96 TouchTM Real-Time PCR Detection System
Catalog Number


DxTM67300-NB

Supplier


Norgen Biotek

Size




Shipping


Dry Ice