Secrete-Pair Dual Luminescence Assay Kit
User Manual
Specifications
Assay Type:
Dual Reporter Assays: Gaussia Luciferase and Secreted Alkaline Phosphatase (SEAP)
Product Description
Live cell assays - secreted GLuc and SEAP make cell lysis unnecessary
Dual-reporter detection - SEAP allows normalization of GLuc signal for greater accuracy
Sensitive and robust System - GLuc is 1,000 times more sensitive than firefly and Renilla luciferases
Flexible assay conditions - two robust buffer conditions are provided for GLuc assays
Clone and vector compatibility - compatible with GeneCopoeia's GLuc-ON™ promoter reporter clones, miTarget™ miRNA target clones, GLuc-ON™ Transcriptional Response Element (TRE) clones, and cloning vectors.
The Secrete-Pair™ Dual Luminescence Assay Kit is designed to analyze the activities of Gaussia Luciferase (GLuc) and Secreted Alkaline Phosphatase (SEAP) in a dual-reporter system. Both GLuc and SEAP are secreted reporter proteins, permitting detection without cell lysis. The same sample can be assayed multiple times for different time points, environmental conditions, etc., reducing sample-to-sample variation. Secrete-Pair is ideal for high-throughput applications, measures dual reporter signals and allows transfection normalization. The kit is provided with two buffers for flexible assay conditions: 1) Buffer for greater stability retains more than 90% of signal within the first 10 minutes, extending the half-life of luminescence to 30 minutes; 2) Buffer for higher sensitivity for detecting low GLuc expression. A single GLuc reporter system is also available.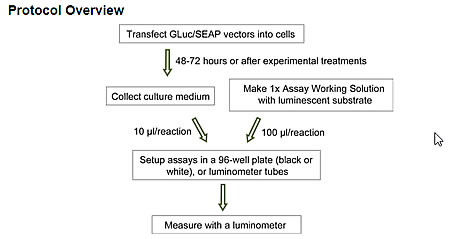 Figure 1. General workflow for the Secrete-Pair™ Dual Luminesence Assay System.
The Secrete-Pair™ Dual Luminescence Assay System is ideally suited for dual-reporter vectors and clones, such as those available for the GLuc-ON™ promoter clones and miTarget™ microRNA target clones. The secondary reporter, secreted Alkaline Phosphatase (SEAP), serves as an internal control. The dual-reporter system enables transfection normalization for accurate cross-sample comparison (Figure 2).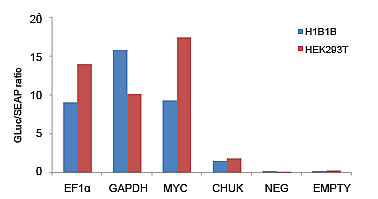 Figure 2. Normalized promoter activities in H1B1B and HEK293T cells. Dual-reporter promoter clones or controls were transfected into two cell lines in duplicates. Samples were analyzed 24 hrs (HEK293T) and 48 hrs (H1B1B) after transfection. NEG (containing non-promoter sequence) and EMPTY (no promoter in the vector) are negative controls.
Two buffer conditions are provided in the kit for GLuc assays depending on the application. Buffer GL-S contains a stabilizer and can be used for stabilized activity by overcoming the quick decay of the GLuc signal. When higher signal intensities are needed, Buffer GL-H is used instead (Figure 3).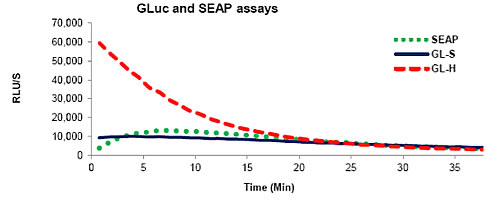 Figure 3. GLuc and SEAP assays. Cell culture medium was collected from cells transfected with wild-type (wt) GLuc-SEAP dual-reporter clone. 10 μl of the medium was used in each assay. At the beginning, the GLuc activity in Buffer GL- H is about 4-6 times higher than that in Buffer GL-S, then quickly decays. The GLuc activity in Buffer GL-S, however, is much more stable.
Catalog Number


LF031-GC

Supplier


GeneCopoeia

Size




Shipping


Blue Ice