DMEMgfp-2 Antibleaching Live Cell Visualization Medium
Data sheet
User Manual
Specifications
Product Category:
Antibleaching Media
Cell Type:
Other
Product Description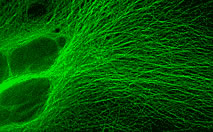 Photobleaching of fluorescent proteins in response to prolonged exposure to exciting radiation significantly impacts their performance as in vivo labels. It has been shown that oxidative reddening of green fluorescent proteins is one of the main sources of GFP photobleaching (Bogdanov et al., 2009). Evrogen's new DMEMgfp-2 is a minimally depleted live cell visualization medium that excludes the components responsible for this effect (Bogdanov et al., 2012). DMEMgfp-2 is an improvement over DMEMgfp (referred to as DMEM-V in Bogdanov et al., 2009), exhibiting similar green fluorescent protein photostability without depleting as many of the compounds normally present in most common cell culture media. This modification makes DMEMgfp-2 better suitable for long-term experiments.
Replacing the culture medium with DMEMgfp-2 for the period of visualization results in up to a 9-fold increase of photostability of EGFP, a 3.3-fold increase of photostability of TagGFP2 and more than a 4-fold increase of photostability of activated forms of photoactivatable PA-GFP and PS-CFP2 (the effect varies for particular fusions and localizations).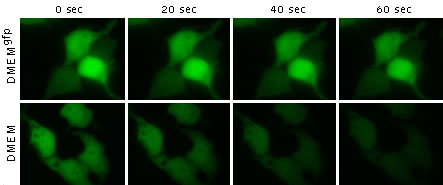 Long-term fluorescent microscopy of EGFP in live HEK293T cells maintained in DMEM or DMEMgfp.
Use:
30 min before starting imaging experiment replace the cell culture medium with DMEMgfp-2 as is or supplemented with rutin at a final concentration of 20 mg/l. Always prepare a fresh solution of rutin in DMEMgfp-2! The replacement should be performed under sterile conditions.
For long experiments DMEMgfp-2 can be supplemented with L-glutamine, penicillin, streptomycin and fetal bovine serum.
Catalog Number


MC102-EV

Supplier


Evrogen

Size




Shipping


RT