Encyclo Plus PCR Kit
Especially recommended for cDNA amplification
User Manual
Product Description
Encyclo Plus PCR kit is intended for most PCR and primer extension applications. It is especially recommended for cDNA amplification because of optimal combination of high fidelity and processivity provided by Encyclo polymerase mix.
Evrogen Encyclo polymerase mix produces high yields of PCR products from a wide variety of templates and is suitable for difficult templates, long PCR (up to 15 kb) from phage lambda DNA, and cloning.
The kit includes three reaction buffers optimized for superior performance of the Encyclo polymerase mix in different applications (successful amplification of long DNA templates, direct loading on agarose gels and efficient amplification of "difficult" (e.g.>65%GC) templates) and dNTP mix.
Figure 1 demonstrates successful performance of the Encyclo PCR kit for amplification of long DNA templates. PCR amplification of total cDNA is shown in Figure 2.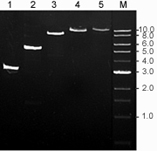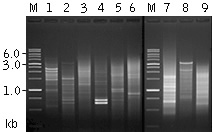 Product Use Limitations: Encyclo PCR kit is intended for research purposes only.
Endnotes: PCR is the subject of patents issued in certain countries. The purchase of this kit does not include a license to perform PCR. However, many researchers may not be required to obtain a license. Other investigators may already have a license to perform PCR through use of a thermal cycler with the appropriate label license.
Catalog Number


PK101-EV

Supplier


Evrogen

Size




Shipping


Dry Ice