Platinum-GP Retroviral Packaging Cell Line, Pantrophic
Data sheet
Specifications
Cell Category:
Packaging Cell Lines
Organism:
Human
Product Description
Retroviral Packaging Cell Line with longer stability and yielding higher virus titers
Achieve higher yields of retroviral structure proteins and longer stability in the presence of drug selection
Higher viral yields: average titer 10^7 infectious units/mL with transient transfection
Longer stability: up to 4 months in the presence of drug selection
Three versions available: Ecotrophic, amphotrophic, and pantrophic
Conventional cells used for retrovirus packaging, such as those based on NIH3T3 cells, have limited stability and produce relatively low yields of virus, mainly due to the poor expression of retroviral structure proteins (gag, pol and env) in the cells.
The Platinum Retroviral Packaging Cell Lines, based on the 293T cell line, exhibit longer stability and produce higher yields of retroviral structure proteins.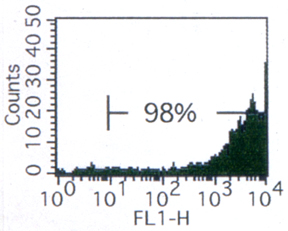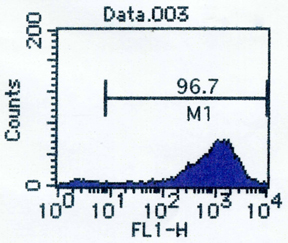 High Viral Yields with Plat-E cells. NIH3T3 cells (top) and mouse ProB Ba/F3 cells (bottom) were infected with GFP retrovirus supernatant produced in Plat-E cells after transfection with pMX-GFP.
License Information
This licensed product is intended for ACADEMIC, GOVERNMENT AND NON-PROFIT RESEARCH USE ONLY; not for use in diagnostic or therapeutic procedures. The product may not be transferred, sold, or otherwise provided to another laboratory except by an authorized distributor of Cell Biolabs, Inc.
Use of this product by Biotechnology and Pharmaceutical companies requires a license for all fields of use including research.
Please contact info@biocat.com to ask for licensing conditions.
Commercial Price Disclaimer
Researchers at for-profit organizations and corporations, please contact us for pricing of this item.
Genetically modified organism (GVO), see General Terms
Catalog Number


RV-103-GVO-CB

Supplier


Cell Biolabs

Size




Shipping


Dry Ice