Shoreline Biome SBAnalyzer and Athena Microbial Reference Database
Ensure that no microbe is left behind with Shoreline SBanalyzer software and the proprietary Athena™ Microbial Reference Database built from curated contiguous 16S-ITS-23S sequences
Product Description
Shoreline Biome's unique microbiome kits are the key to generating long-read next-generation sequencing data necessary to discriminate microbial strains from any sample. The SBanalyzer software enables discovery of never before detected species and strains from microbiome samples.
In addition, SBanalyzer simplifies taxonomic assignment from the Shoreline Biome full length 16S (V1-V9) or 16S-ITS-23S (StrainID™, NanoID™) long amplicon kits using the proprietary Athena™ Microbial Reference Database built from curated contiguous 16S-ITS-23S sequences.
Shoreline Biome's 'Expert User Protocol' details the exact steps needed in conjunction with DADA2 for ASV inference/database-independent identification and tracking of novel sequences or strains within and across experiments. Together, these are the Shoreline Complete™ solution.
Features
Fast and easy to use point-and-click interface
Easily run on a laptop or a CentOS command line
Automated demultiplexing of V1-V9 or 16S-ITS-23S (StrainID™, NanoID™) long-read output
Accurate read mapping to proprietary Athena™ Microbial Reference or SILVA Database
Categorization of both known and novel strains
Simple excel based and FASTQ file data outputs for comparing microbe taxa
Straight forward read extraction of interesting taxomnomies
Expert User protocol with R-script enables ASV assignment using DADA2
Version 3.1 Highlights
Advanced classification for reads with poor homology to known ITS regions
Improved classification of unknowns by scanning for related genomes
Significantly faster processing speed
Support for Oxford Nanopore Sequencing Platform
Greater read alignment and palindrome removal
Expanded Athena Microbial Reference database: ~20K genomes & 66K 16S-ITS-23S regions
Updated SILVA v138 update included
Enables the use of the downstream informatics tools DADA2, QIIME 2
Outputs
Taxonomic classification and read quantification of microbes within samples
Excel-compatible output for sample to sample comparisons
Untrimmed and primer-trimmed FASTQ/FASTA demultiplexing options
SBanalyzer Quick Start Guide
SBanalyzer Installation and Quick Start Guides
SBanalyzer documentation provides easy-to-follow installation instructions and a quick start guide on how to use the software to analyze results of a sequencing run. Click to access the Installation and Quick Start Guide for CentOS or Windows10 (registration required).
On-demand Webinar - Identification and Classification of Novel Bacterial Strains
Identification and classification of novel bacterial strains in microbiome samples enables a new level of resolution and discovery. Watch Shoreline Biome's free on-demand webinar (registration required) to learn how The Shoreline Complete StrainID™, SBanalyzer™ software, and Athena™ database in conjunction with a bioinformatics pipeline featuring DADA2, identifies ASVs and classifies novel strains.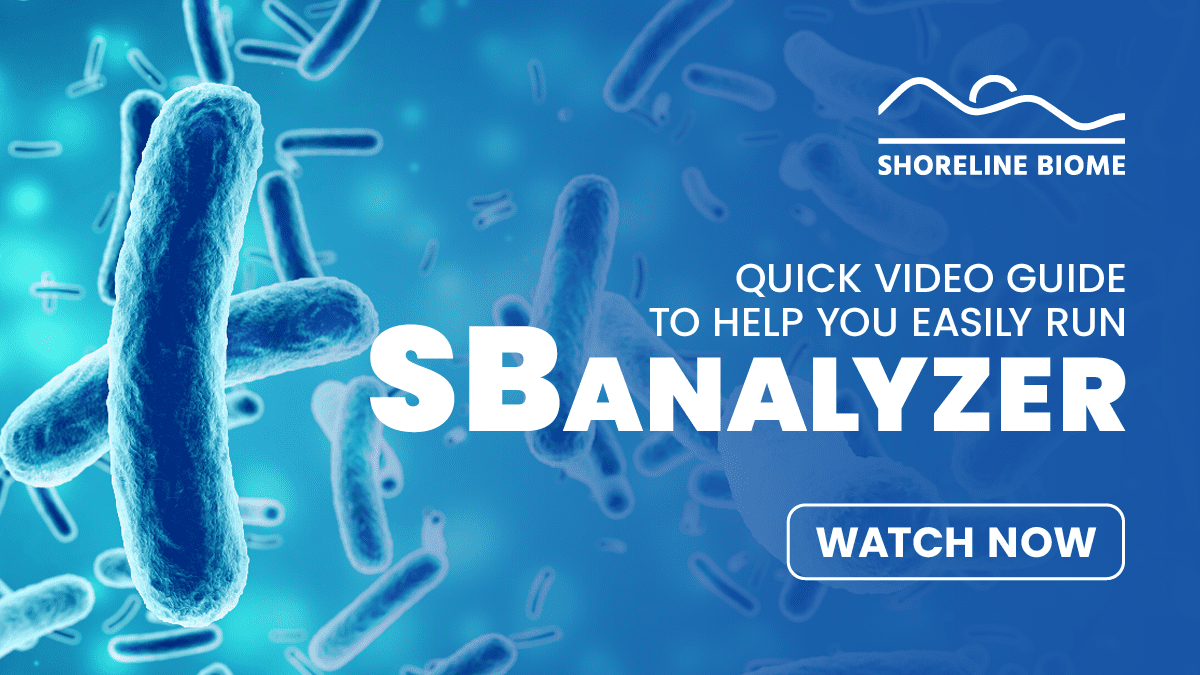 Software/Hardware Requirements
SBanalyzer software installation on Microsoft Windows 10 or Linux CentOS 7 or 8
1TB disk drive (2 TB recommended)
32 GB RAM (64 for multiple simultaneous Sequel2 run analysis)
Processor Options: Six core i7 4 GHz minimum.
Microsoft Excel for Windows 10, Centos 8 GUI with LibreOffice
Can be run on Oracle VM with Centos 8 installed on Mac or Windows
Server with 32-core head node, 64GB RAM, 2TB hard drive is even better
Catalog Number


SWDB-SLB

Supplier


Shoreline Biome

Size




Shipping


Blue Ice