Expires 30 September 2021
VitroGel 3D High Concentration Kit with Dilution Solution Type 2
VitroGel® High Concentration Hydrogels are xeno-free, tunable hydrogels for researchers wanting full control to manipulate the biophysical and biological properties of cell culture environment.
User Manual
Application Note
Application Note 2
Application Note 3
Brochure
Product Description
The tunability of the hydrogel gives the ability to create an optimized environment for cell growth. The solution transforms into a hydrogel matrix by simply mixing with the cell culture medium. No cross-linking agent is required. Cells cultured in this system can be easily harvested. The hydrogel is also injectable for in vivo studies. From 2D coating, 3D culture to animal injection, VitroGel makes it possible to bridge the in vitro and in vivo studies with the same platform system. VitroGel® High Concentration Mix & Match Build and create a customized multi-functional hydrogel by blending different types of VitroGel together. Available functional ligands are RGD, collagen, laminin and MMP.
Tunable hydrogel strength
Easy-to-use
Xeno-free
Work at room temperature
Easy cell harvesting - 20 min protocol
Mix & Match
Transparent
Injectable
What's the difference between VitroGel Dilution Solution Type 1 and Type 2
VitroGel Dilution Solution Type 1 contains sucrose to maintain the best osmolarity. Dilution Type 2 is sucrose-free. For most cell lines, VitroGel Dilution Solution Type 1 is recommended. VitroGel Dilution Solution Type 2 is for scientists working with cells that are sensitive to sugar.
Guide to select from the different versions of VitroGel
3D cell culture process in 20 min
(includes a 10-15 min waiting time for hydrogel stabilization)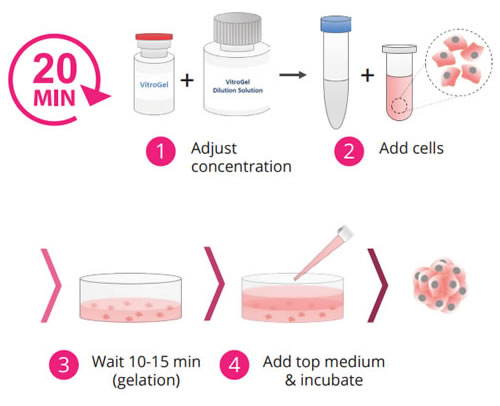 Product Citations
Haoyue Xu, Yuhan Han, Gang Zhao, Long Zhang, Zongren Zhao, Zhen Wang, Liang Zhao, Lei Hua, Konduru Naveena, Jun Lu, Rutong Yu and Hongmei Liu (2020) Hypoxia-Responsive Lipid–Polymer Nanoparticle-Combined Imaging-Guided Surgery and Multitherapy Strategies for Glioma ACS Appl. Mater. Interfaces 12(47):52319–52328
Feng W, Dean DC, Hornicek FJ, et al (2020) ATR and p-ATR are emerging prognostic biomarkers and DNA damage response targets in ovarian cancer. Therapeutic Advances in Medical Oncology 2020
Lan T, Guo J, Bai X, et al. (2020) RGD-modified injectable hydrogel maintains islet beta-cell survival and function Journal of Applied Biomaterials & Functional Materials 2020
Romela Irene Ramos Matias A. Bustos Jinfeng Wu Peter Jones Shu Ching Chang Eiji Kiyohara Kevin Tran Xiaoqing Zhang Stacey L. Stern Sivan Izraely, et al. (2020) Upregulation of cell surface GD3 ganglioside phenotype is associated with human melanoma brain metastasis Molecular Oncology 14(8):1760-1778
Borzi, C., Calzolari, L., Ferretti, A.M. et al. (2019) c-Myc shuttled by tumour-derived extracellular vesicles promotes lung bronchial cell proliferation through miR-19b and miR-92a Cell Death Dis 10(759)
...
Catalog Number


TWG001-TYPE2-TW

Supplier


TheWell

Size




Shipping


RT