Expires 30 September 2021
VitroGel COL High Concentration Kit with Dilution Solution Type 2
VitroGel® High Concentration Hydrogels are xeno-free, tunable hydrogels for researchers wanting full control to manipulate the biophysical and biological properties of cell culture environment.
User Manual
Brochure
Product Description
The tunability of the hydrogel gives the ability to create an optimized environment for cell growth. The solution transforms into a hydrogel matrix by simply mixing with the cell culture medium. No cross-linking agent is required. Cells cultured in this system can be easily harvested. The hydrogel is also injectable for in vivo studies. From 2D coating, 3D culture to animal injection, VitroGel makes it possible to bridge the in vitro and in vivo studies with the same platform system. VitroGel® High Concentration Mix & Match Build and create a customized multi-functional hydrogel by blending different types of VitroGel together. Available functional ligands are RGD, collagen, laminin and MMP.
Tunable hydrogel strength
Easy-to-use
Xeno-free
Work at room temperature
Easy cell harvesting - 20 min protocol
Mix & Match
Transparent
Injectable
What's the difference between VitroGel Dilution Solution Type 1 and Type 2
VitroGel Dilution Solution Type 1 contains sucrose to maintain the best osmolarity. Dilution Type 2 is sucrose-free. For most cell lines, VitroGel Dilution Solution Type 1 is recommended. VitroGel Dilution Solution Type 2 is for scientists working with cells that are sensitive to sugar.
Guide to select from the different versions of VitroGel
3D cell culture process in 20 min
(includes a 10-15 min waiting time for hydrogel stabilization)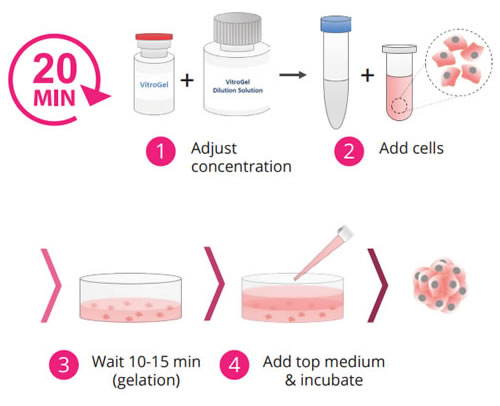 Catalog Number


TWG009-TYPE2-TW

Supplier


TheWell

Size




Shipping


RT