VitroGel Hydrogel Matrix
VitroGel® Hydrogel Matrix is a ready-to-use, xeno-free functional hydrogel for 3D cell culture research. VitroGel Hydrogel Matrix is an optimized formulation of multi-functional ligands and concentration to support a wide range of cell types for different applications.
User Manual
Application Note
Brochure
Product Description
"Just Add Cells"– The hydrogel matrix is ready to mix with cell suspension directly. There is no additional adjustment needed.
3D and 2D cell culture
Ready-to-use
Xeno-free
Injectable
Biocompatible
Multi-functional
Work at room temperature
Easy cell harvesting - 20 min protocol
VitroGel Hydrogel Matrix closely mimics the natural extracellular matrix (ECM) environment to make cells feel more like at home. The hydrogel is room temperature stable, has a neutral pH, transparent, permeable and compatible with different imaging systems. The solution transforms into a hydrogel matrix by simply mixing with the cell culture medium. Cells cultured in this system can be easily harvested out with our VitroGel Cell Recovery Solution.
This user-friendly functional hydrogel creates an excellent balance of simplicity and versatility.
Applications
3D cell model
2D hydrogel coating
Co-culture
Invasion assay
3D migration
Animal injection
Control release
FRESH bioprinting
High throughput screening
3D cell culture process in 20 min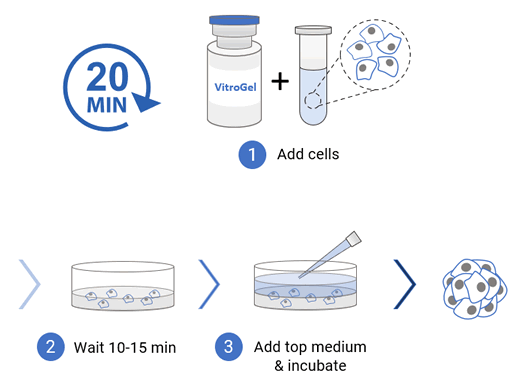 Catalog Number


VHM01-TW

Supplier


TheWell

Size




Shipping


RT