ViraSafe™ Lentiviral Bicistronic Expression System (Neo), Pantropic
User Manual
Product Description
ViraSafe Universal Lentiviral Expression System
Transfer Plasmid: Reduce extent of HIV sequences to increase capability up to 10 kb and reduce likelihood of recombination between vector components. Add elements to increase titer and further improve safety
Packaging Plasmid: Improve the packaging plasmid to increase performance and reduce the likelihood of recombination between vector components
a. Minimize HIV sequences – no accessory proteins, Tat or Rev, or LTRs
b. Prevent overlap with vector SM by codon wobbling Gag sequences
c. Boost particle production by incorporating adenovirus VAI element
Flexible: All vectors including packaging vectors are provided separately to allow end-user to optimize the vector ratio for maximal lentivirus production
Cell Biolabs' ViraSafe™ Universal Lentiviral Expression System provides a much safer method to package lentivirus, while still providing high viral titers. The sequence homology with native HIV-1 has been reduced by 80-90% even compared with commercial third-generation packaging systems.
In addition, each plasmid is provided separately rather than in a packaging mixture. This allows you the flexibility to amplify individual plasmids and optimize the ratio of plasmids for your experiment.
pSMPUW-IRES-Neo Lentiviral Expression Vector contains EF-1a promoter ahead of the multiple cloning sites, followed by an IRES and neomycin resistant gene.
pSMPUW-IRES-Neo Lentiviral Expression Vector (6477 bp, Kanamycin-resistant)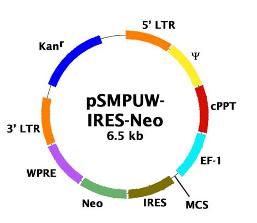 Packaging Plasmids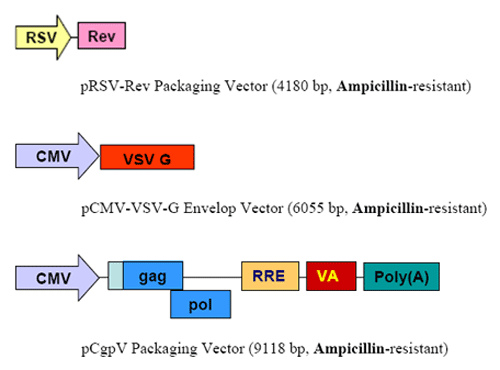 Catalog Number


VPK-216-PAN-CB

Supplier


Cell Biolabs

Size




Shipping


Blue Ice